Let's stop the violence epidemic
Ritstjórn — Uncategorized
21.09.2021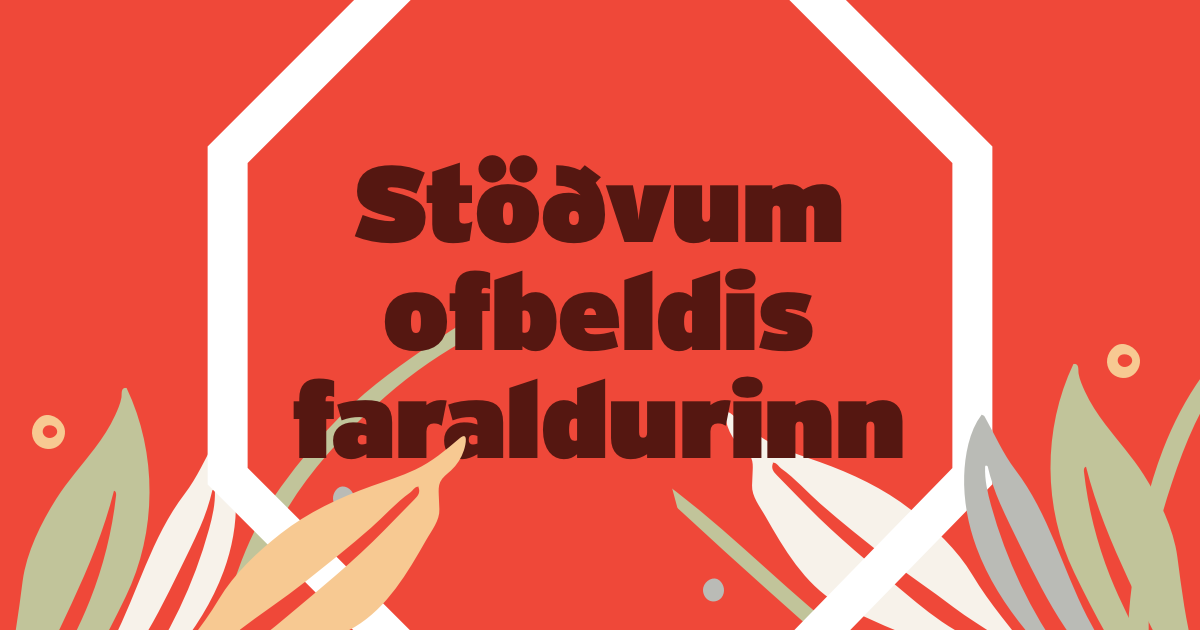 After decades and centuries of women's struggle for recognition by society and the government of gender-based violence and harassment, it's time for public action. Everyone should be aware of the damage that gender-based violence has caused, especially to women and children, and that violence is ingrained, dominant and systematic in society. The time for awakening has passed and the facts are available. Now action is needed.
The Socialist Party of Iceland invites voters to vote with the following measures in the parliamentary elections this autumn:
Violent surveillance will be put in place that investigates, at the suggestion or initiative of workplaces, schools and public places and has the power to respond where it is shown that violence and harassment are rampant, remove perpetrators, deprive places of work permits and use other means to secure staff, students and guests safety.
Supervision should focus specifically on those places where power imbalances are high due to income differences, age differences or different origins, positions or powers.
An independent police and prosecution institute will be set up with qualified staff who specialize in the investigation and proceedings of gender-based violence cases, develop investigative methods suitable for victims and the seriousness of cases, support court proceedings and support for victims before and after litigation.
Victims of crime are given a free trial to pursue civil cases against criminals.
The most serious acts of violence take place within the home, where people live with the most prolonged and serious violence. The government's response to domestic violence must be commensurate with its severity and prevalence. Offenders must always be removed from homes and victims must be protected from offenders. A home shall be operated for offenders who are not imprisoned or remanded in custody. Representatives of the violent surveillance shall always appear at the scene and the child protection authorities if there are children in the home, together with the response and investigative police, and protect the interests of victims in investigating cases with the police, the prosecution and other public proceedings and aftermaths. Victims receive appropriate treatment and follow-up for the violence and the trauma that accompanies it.
Courses will be developed for all staff who work with children to increase knowledge of signs of violence against children and how to respond. Those who work with children will be required to have completed such courses.
Courses will be held for the staff of health care institutions and those who work with the personal assistance of people living with a disability, physical or mental, or a disability of some kind. The training is intended to prevent violence at the hands of caregivers, whether consciously or unconsciously, and how best to know its symptoms and respond.
It will also be required that officials in public institutions have completed courses on violence and the same requirements will be made for all private companies in business with the state and municipalities.
Curriculum on gender studies, sexual violence and other violence will be developed and implemented for all grades of preschool, primary school and upper secondary school. Educational material will be prepared for the whole public.
Victims of crime will be guaranteed treatment for their trauma. Compensation and damages shall be paid from public funds to those who have suffered violence and harm and are unable to claim such compensation in civil cases. The Compensation Committee aims for a lower standard of proof than is the case in criminal cases.
Gender-based violence is a serious evil in society that causes great personal harm, reduces people's activity and causes widespread insecurity in society. It is therefore important to work to reduce this epidemic as much as possible. It is important to increase everyone's awareness of the physical and mental consequences of violence, as well as to build institutions and resources to deal with them.
This is the role of the public sector, to adapt the institutions of society to the plight of the people, to defend them against the threat, to support it and to strengthen it.